Contact Us
Phone: (310) 542-6225
Fax: (310) 542-9876
4571 Artesia Boulevard
Lawndale, California 90260
Enter from rear parking lot.
Hours Of Operation
Tues – Thurs: 11am – 5pm
Fri – Sat: 11am – 4pm
Sun & Mon: Closed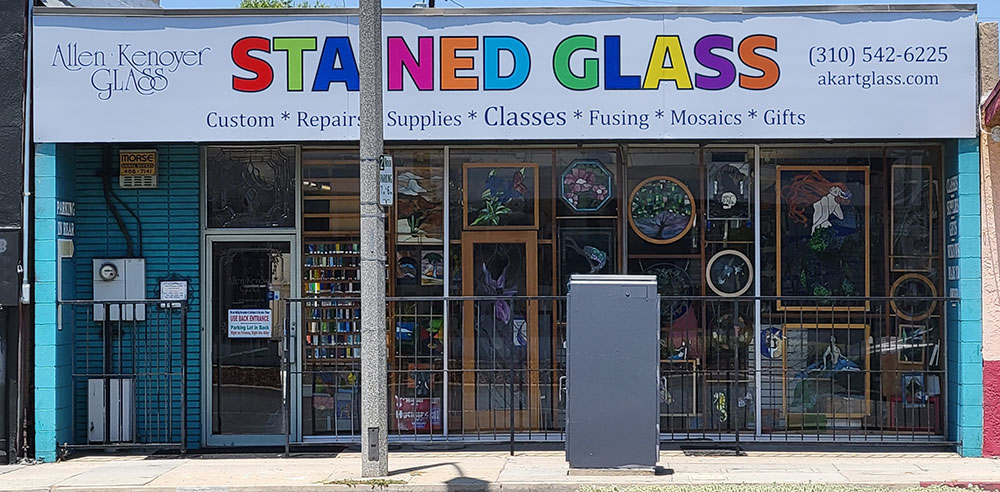 Allen Kenoyer Glass offers a wide array of supplies for all of your art glass needs. Below is a partial list of what we carry in store. If you do not see what you need on the list, please feel free to call. We carry much more than we are able to list here. We are also happy to special order at no extra charge.
Oceanside
Wissmach
Youghiogheny
Bullseye
Pilkington
Glue Chip
GNA
VanGogh
Mirror
Single & double strength clear
Lead,zinc,brass & copper came
Solder & irons
Patinas & fluxes
Foil
Glass cutters
Pliers
Circle cutters
Cuttersmate
Creator's Tools
Grinders
Grinder bits/drill bits
Bevels & clusters
Jewels & nuggets
Books
Lamp vase caps
Safety Glasses
Mosaic Nippers
Tweezers
Weldbond
No Days Adhesive Products
Mosaic scrap
Safety Glasses
System 96 Glass
System 90 Glass
Glues
Kiln wash
thin fire paper
Bales, etc
Stingers & Noodles
Frit
Scrap dichroic glass
Glass Molds
Paints
Flexiglass
PreCut shapes
Dichroic Glass